In my last blog post, I discussed the looming shortage of healthcare workers in California. A deeper look at the shortage reveals that it is not just about the sheer number of workers required to meet the healthcare needs of the state's residents, but also about the composition of the healthcare workforce. By 2030, people of color will make up the majority of Californians, yet they remain severely underrepresented in the healthcare field. Nationally, people of color represent 34% of physicians and 47% of nurses. The dearth of Latinos in the healthcare workforce is especially glaring. Latinos are California's largest single ethnic group and will make up 41.5% of the population by 2030, yet they comprise only 7% of physicians.
For safety net healthcare systems like Alameda Health System—whose mandate is to serve the uninsured, Medicaid and Medicare recipients, and otherwise vulnerable populations—having a diverse workforce is essential. The individuals we serve are overwhelmingly people of color, low income, and many are immigrants. Research shows that when providers share a common cultural background with their patients, it leads to improvement in access to care, better patient provider communication, and higher patient satisfaction, which ultimately translate into better overall health outcomes.
The Health Excellence & Academic Leadership (HEAL) program at Alameda Health System was designed to address the need for a more diverse and culturally competent workforce. HEAL provides internships and work-based learning experiences to over 250 high school students from Oakland each year. The program is designed to introduce young people of color to the health professions and help them map out the educational and training requirements required to pursue a healthcare career of interest to them.
The chart below shows a comparison of the racial/ethnic make-up of AHS's patient population, the AHS workforce, and HEAL program participants. Although relative to many other health systems AHS has a fairly diverse workforce, Hispanic/Latinos are still under-represented among our providers. However, if you look at the racial/ethnic make-up of the HEAL program participants, you can see that over 50 percent of the young people going through the HEAL program are Hispanic/Latino. These students are from the communities that AHS serves, and, in fact, quite a number of them receive their healthcare at AHS.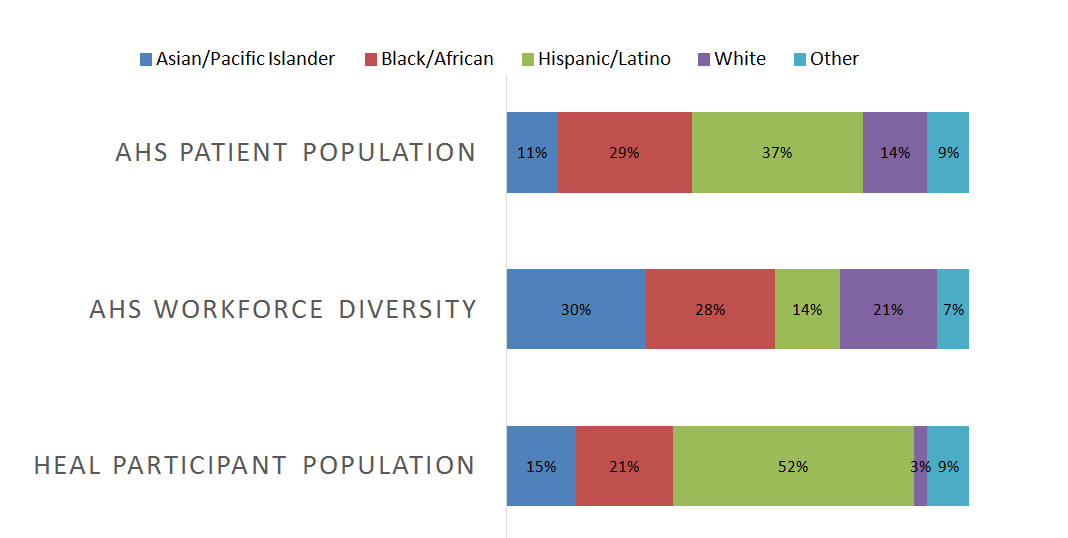 It is our hope that the high school students who participate in the HEAL program will go on to pursue a post-secondary certificate or degree in a health-related field and one day come back to work at AHS as a nurse, physician, respiratory therapist, radiology technician, medical assistant or other health professional. Even if they choose to work elsewhere, the HEAL program is addressing a critical need: cultivating a healthcare workforce that can provide culturally appropriate care to California's diverse and growing population.
Sources–
[1]Greenlining Institute. Building a Diverse Health Career Pipeline, Issue Brief, January 2017.
[2] Meeting the Demand For Health: The Final Report of the California Future Health Workforce Commission, February 2019.
[3] Cohen, Gabriel, and Terrell. The Case for Diversity in the Healthcare Workforce. HEALTH AFFAIRS, VOL. 21, NO. 5: 2002.