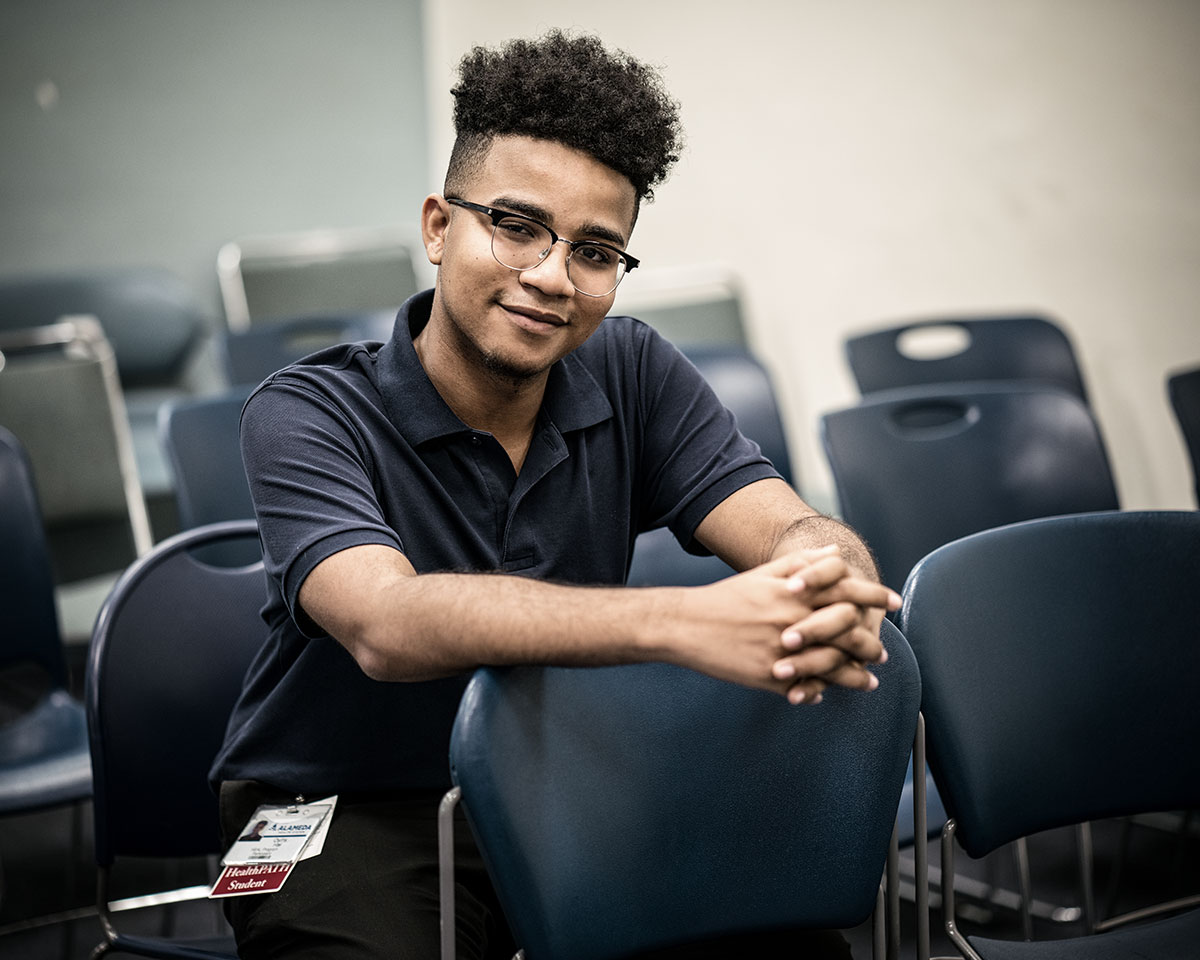 OSIRIS HAL
OAKLAND SCHOOL FOR THE ARTS | HEAL, HIGHLAND HOSPITAL
You can be book smart, but if you can't connect with your patients then you won't be a good surgeon.
In the HEAL program we talk about the mental and social health issues and the different health disparities within Oakland. When I get older, I want to provide a mentoring program with youth of color to build a bridge between patient and doctor.
I can't see out of my right eye and I've had a lot of surgeries growing up. I think that it has shaped me to learn to adjust and speak up for myself. It made me interested in medicine at an early age. It is also why I'm an artist—I was automatically pushed away from sports and other activities.
When I started HEAL, I was nervous that I was at a disadvantage. I realized that it wasn't one or the other—art or medicine—because I still put a lot of focus into my art even if I don't want to do it as a career.
I have learned that I want to be a doctor. Growing up, I felt that the connection between doctors and patients is often broken. I don't want to dumb down or not share the full information with teenagers. Doctors don't want to disappoint their patients, but I think it is also important to be realistic. Through HEAL, seeing doctors of color, who look like me, made a huge difference.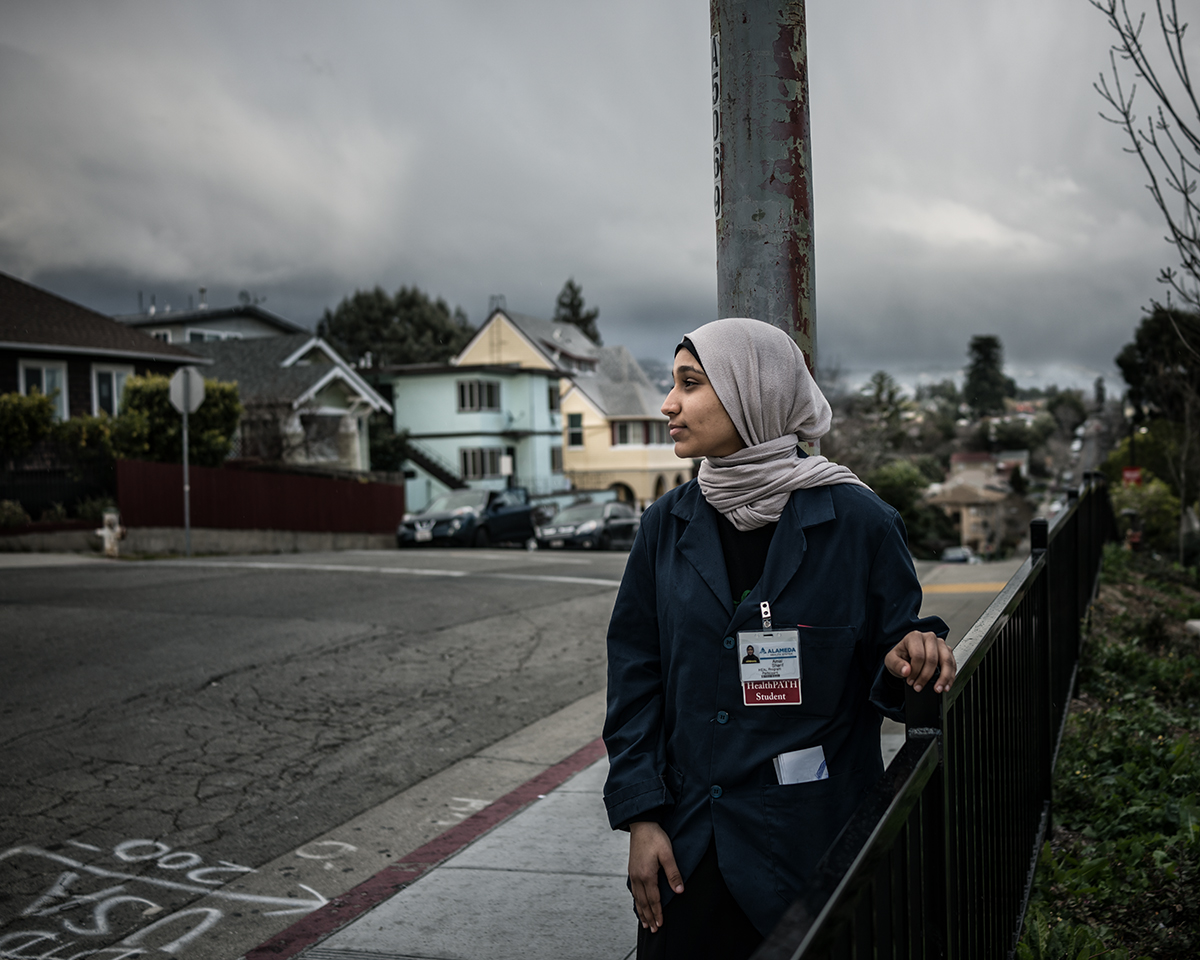 AMAL SHARIF
LIGHTHOUSE COMMUNITY CHARTER SCHOOL | HEAL, HIGHLAND HOSPITAL
My teacher encourages us to explore new career fields. You can't just get in the hospital and walk around. Through HEAL, I could see what's inside, what's really happening in the hospital. I see shows like Grey's Anatomy and all this drama, but it's more; it's people.
I discovered varieties of radiology that could detect anything and I saw new machines that I never knew existed. Working here has opened my eyes. People are in need and want help. This is real life. I want to bring them peace.
My mom is a great example for me. She has the education to be a medical assistant and my auntie is working to become a doctor. My mom is strong, independent, and hard-working. She raised me by herself.
She is very proud of me balancing school and the program. I was taught that I am a powerful woman, and the program has given me more confidence.
I advocate for myself, ask questions, lots of questions, and people really like this about me.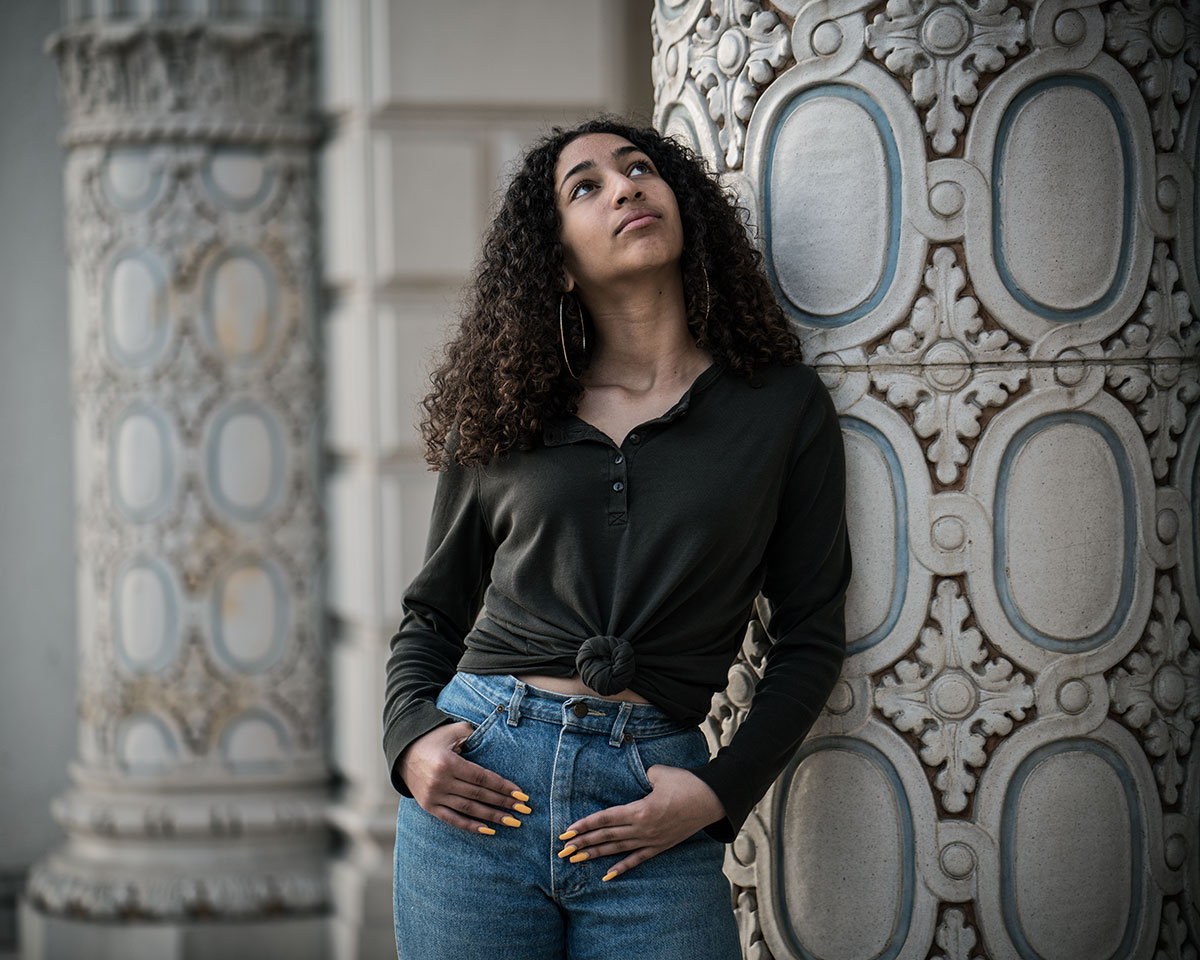 ISHA CLARKE
METWEST HIGH SCHOOL | HEAL, HIGHLAND HOSPITAL and MIMS
What is more extreme and raw and crazy than working in a hospital? Nothing gets filtered.
The drama of gunshot wounds. Seeing the social and racial economics of Highland, and how that plays into medicine. It is so much more than just medicine. You have a huge impact on people's lives when you're serving a population that's constantly swept under the rug and that has a lot of trust issues.
My dad has had numerous health issues and he does not trust medical professionals at all. The whole process is very uncomfortable for him, and I'm sure that it has something to do with him being a black man when a lot of the care is from white men and women. I think that being able to look like the people you are serving and being able to relate can greatly benefit you.
I still have faith in medicine, and I say that because we have to have medicine and keep improving it.
My high school, MetWest, is internship-based. I have taken part in HEAL, MIMS, and currently Healthy Ambassadors. Through these programs I realize I have motivation to change the face of medicine, literally. It has helped me develop a clear vision of what I want for myself and in my future career.
Maybe I will be an orthopedic surgeon and the only black woman in the room.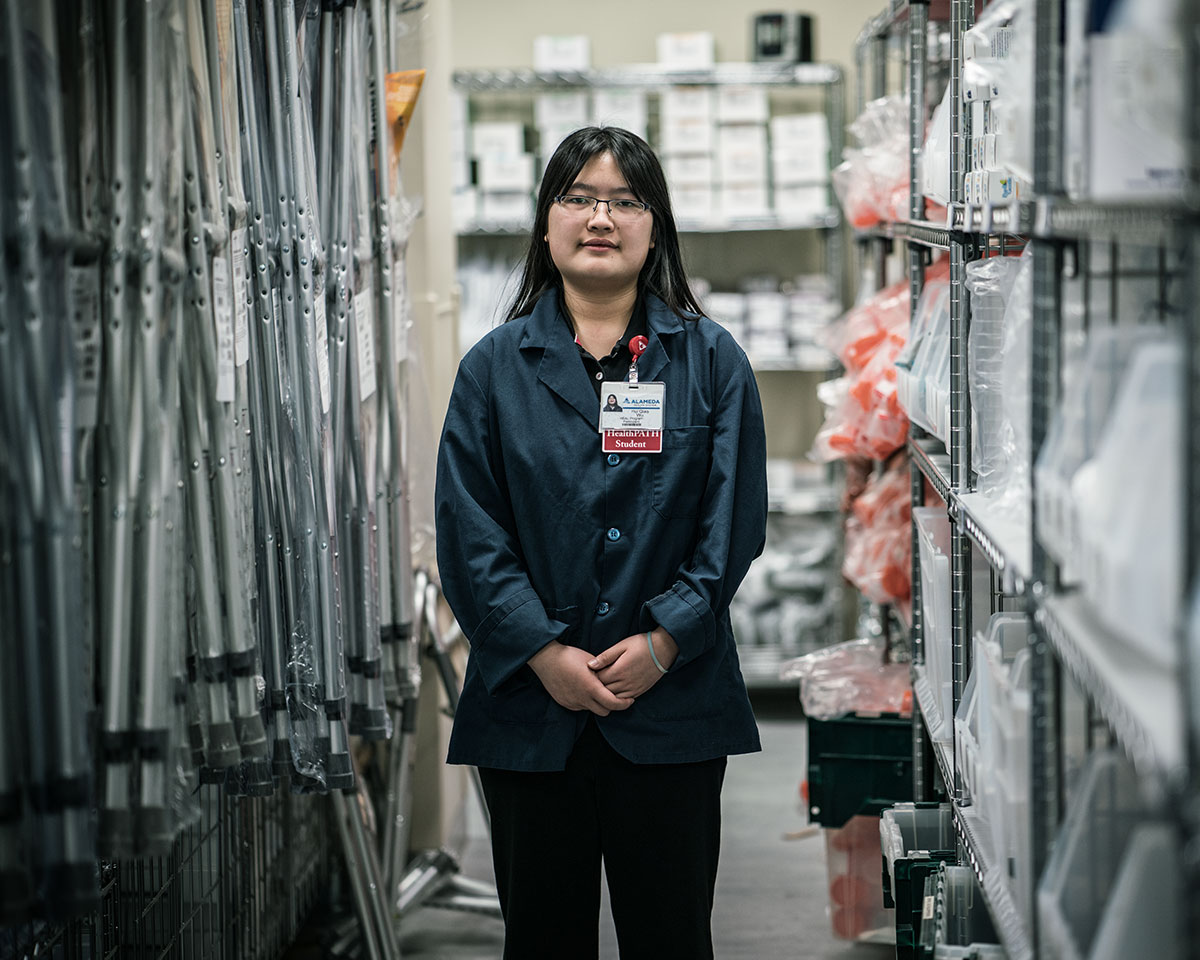 HUI QIAO WU
OAKLAND HIGH SCHOOL | HEALTHPATH INTERN, PUBLIC HEALTH ACADEMY
My dad agreed to move for my education because it is common to hear that the United States has the best schools and opportunities.
We came to California from China when I was 7. My parents don't speak English. My dad cooks in a Chinese restaurant and my mom is a housewife but also a student at Laney College, just trying to learn some English.
In China, they focus on grades and test scores and not on volunteering or internships. This program actually helps you research about your future and yourself. I was originally in the HEAL program, twice, and now am a HealthPATH intern. It helped me develop my goal for the future in nursing and what nurses actually do.
To be super honest, money drew me to the health field. Because my family doesn't speak English, they don't have a lot of choices. Family is somebody you can depend on. Even though I applied to this internship myself, my family has fully supported me and I feel like I should support them with everything. My first priority is to sustain them. After my dad retires, I will be the only income source.
I know that other people don't have a nice family like me, so thank you guys for caring for me.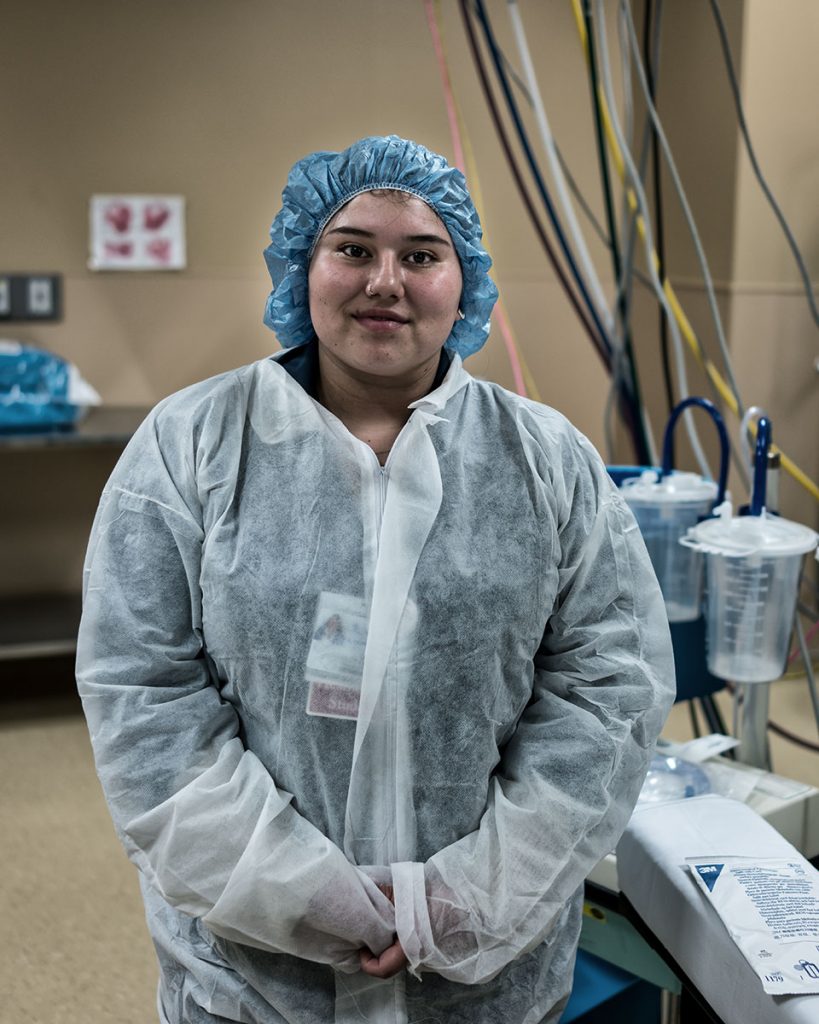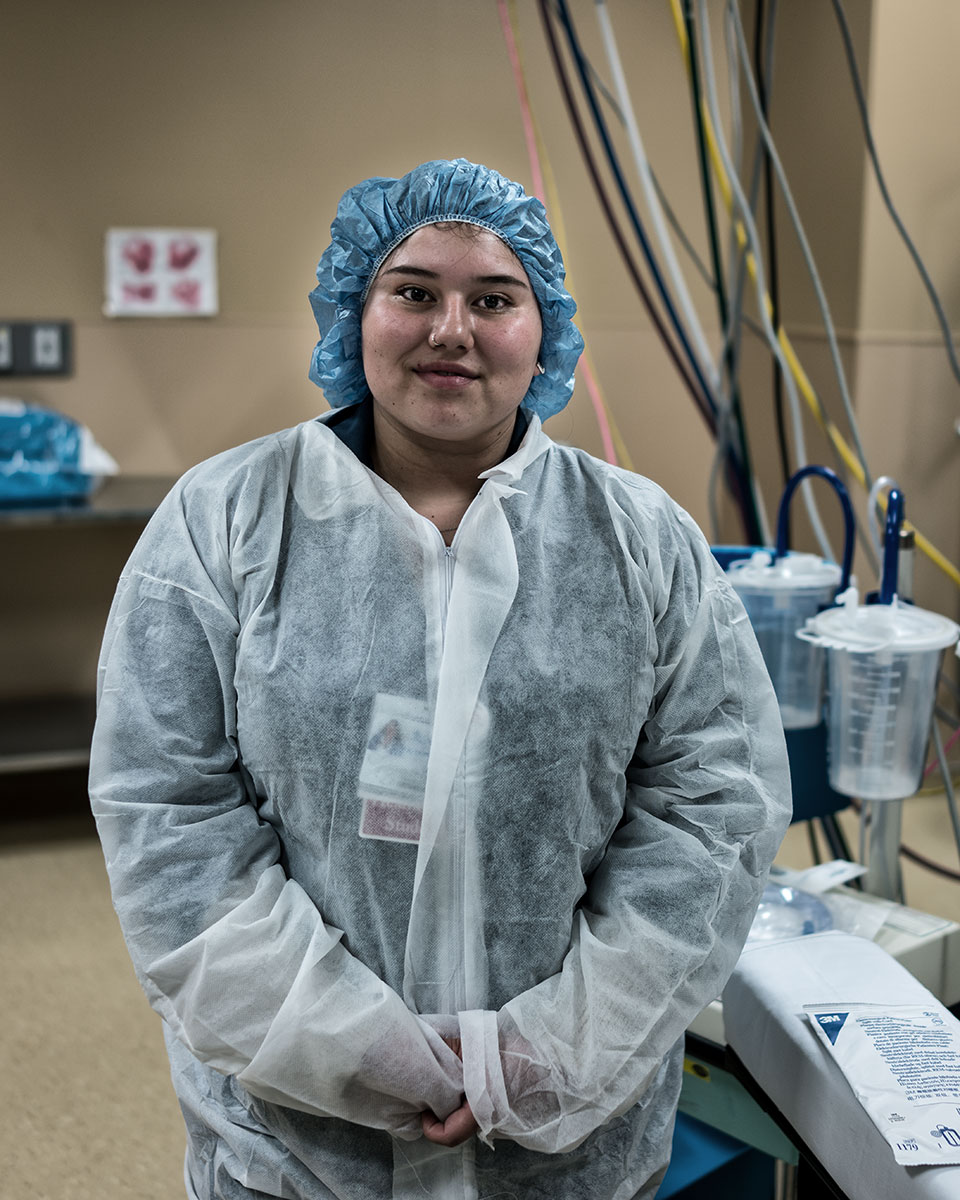 LESLY GUERRA
METWEST HIGH SCHOOL | HEAL, HIGHLAND HOSPITAL
I'm a baby person. I love babies.
When I was younger, I would go with my mother to her doctor appointments when she was pregnant with my little brother. He was born here in Highland Hospital. I was so excited to come back and help these nurses during my internship. Every time I walk in here, I feel like I'm somebody who knows this hospital.
It has been a great experience. I have been doing HEAL internships for two years—every Tuesday and Thursday through my high school, MetWest. I am really focused on becoming a registered labor and delivery nurse.
At first, I was interning in the emergency room. A patient passed away and I kind of had a breakdown because it was so upsetting.
I talked with an ER nurse who explained that there are many different departments. That is when I realized I want to work in labor and delivery. We go through rotations, and I worked hard to make myself known in that department for doing a good job.
Though both my grandpa and my mom never fulfilled their own dreams to work in health care, every day they tell me how proud they are of me.
I am going to make my dreams come true.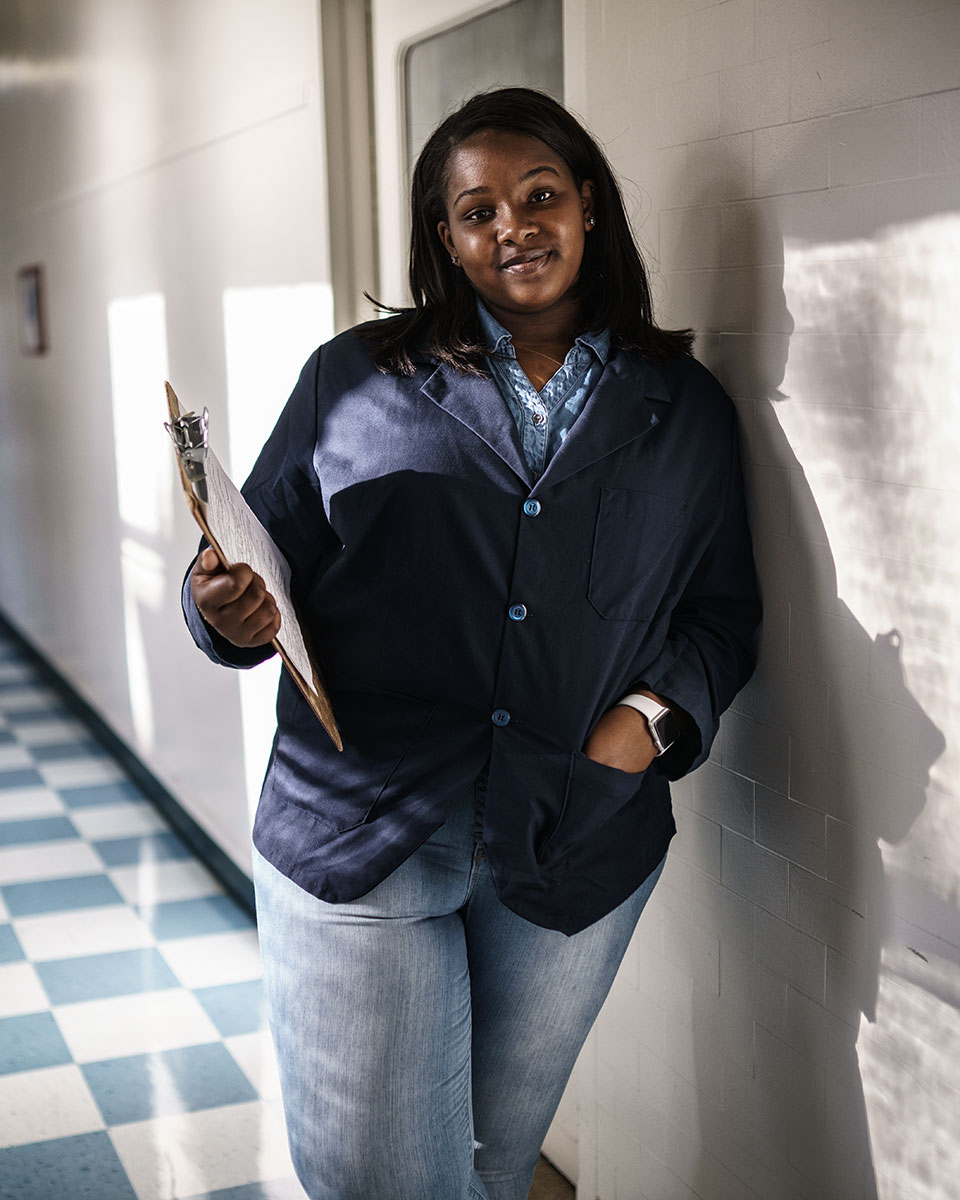 In the past, I was kind of torn. I knew I wanted to do politics or the medical field.
My mother is a police officer. My dad used to be a police officer but now is in law. I am in student government and have had opportunities on the political side. When I came to HEAL it opened me up to the possibilities of health care.
I loved the intensity of the hospital. Being at the hospital, I felt the gratification of seeing and making somebody get better. That is kind of rare, when the good outweighs the bad.
I procrastinate a lot and work well under pressure, often getting my schoolwork done at the last minute, because I would hang out with my friends after school. Once I got into this program I realized I need to focus. In order to be a health professional, you can't be self-centered. You have to make sure that your personal life is set, because when you come into the hospital you have to be emotionally available to help someone else.
When you find out what you want to do in life, you work hard to achieve that goal. I now know I want to go to a four-year university and medical school. Helping people in health care, like helping my community become a safer place, definitely connects both the medical and the political.